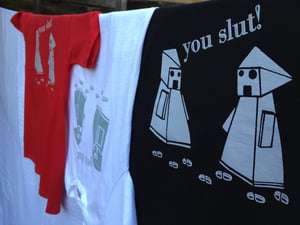 £

9.99
The year 2000, The distant future...
NOVEMBER 2012
BACK IN - WHITE & RED & BLACK!
MAY 2012
NEW LTD EDITION DARK GREEN - SOLD OUT
We've had some reprinted but we've just been on tour so we've sold some of the colours that are here. If you can't select a colour from the menu below, we've sold them all.
The Female ones are cut in a figure hugging way that girls and Daz like to wear.
Like This:




If you like a little bit of give, best to go for the Male ones.
The XXL ones are Huge. Really. They're big.


Select what you want on the drop-down menu below and add it to your cart.